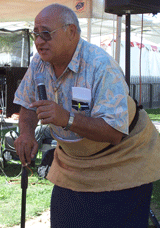 Uncle Emil Wolfgramm tells stories (07)
Hale Mana'o
Get up close and personal with performers, artists, and presenters at the House of Knowledge, where you can ask questions and interact with the presenters.
Storytellers, Tahitian drummers, voyagers on ocean-going canoes, and tattooists from the Hawaiian and Maori tradition are among those who have presented.

The Festival seeks guest artists each year to bring their expertise and knowledge, some traveling from Hawaii, New Zealand or other South Pacific islands .