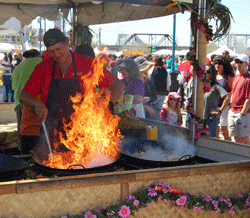 Fresh cooked just for you!
Or you can try some Portugese sausage, Island beef stew over rice, pineapple curry, coconut shrimp, kalbi ribs, chicken katsu, yakisoba, or yakitori. Maybe some palasami, lupulu, or gyoza, New Zealand meat pies, stir-fied noodles, or stuffed bao. Menus change. so be sure to try a bite of everything...

Tropical fruits like mango, pineapple and coconut flavor ice cream, smoothies and refreshing fruit punches.