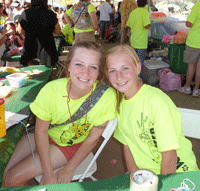 Helping kids and families is fun!
For 2022, to prevent crowds being in close contact for these crafts and table games, there will NOT be in-person Keiki Activities this year.


Keiki Make'n'take Activities
Volunteers assist keiki (kids) and family members to make simple cultural crafts. All materials are provided. This is the most appropriate area for prospective volunteers under 18.

You'll set out proper materials, monitor use of supplies, teach or assist where needed, and help keep orderly access for all interested in participation in the free activity.

Keiki Volunteers work closely with the Committee chairperson.