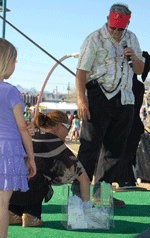 Picking a winner
The Drawing is Sunday afternoon at 4 - you do not have to be present to win!


Print your name, address and number clearly so we can read it! If your name is drawn, we will call you within 3 days of the event. If we can't reach you by phone or email, we'll send a letter to your listed address with the deadline for response time.

If no one claims the prize within those parameters, we will draw another ticket.