Stringing a lei of paper flowers is traditional in Hawaii's elementary schools to celebrate 'Lei Day' on the first of May.

Pacific Islanders created traditional lei of entire flowers, buds, seeds, nuts, plant fibers, leaves, ferns, seashells, bone or teeth, and more. Modern lei can be made of money, candy, or other objects.

Lei are traditional for graduations or other special occasions. Most lei are made as a gift for another.

Enjoy wearing YOUR lei as you visit the Festival. It's an easy way to get into the island spirit.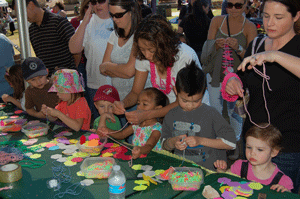 Some need a little help