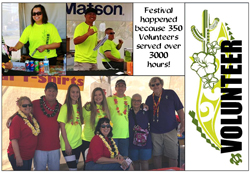 Mahalo! Fa'afetai! Malo 'aupito! Mauruuru roa!
In any language, we can't say 'Thanks' enough! Every volunteer gives us their most precious gifts: time and talent.
To all you soda sellers, stage crews, Keiki activities-helpers, teeshirt and raffle ticket sellers, SWAT members, and Aloha Corps members ...we couldn't do it without you!

And our gratitude to all Performers, Hale Mana'o presenters, and ukulele teachers who shared their talents and expertise.
We also give a shout-out to our wonderful Sponsors who help us make Festival happen...please support them as they have supported us!